A wonderfully artistic offer, with a rich flair to it. Always a popular choice with the locals - one to wow your friends and family with, especially at Christmas time. Quick to put together, but once you get a taste of it, it leaves you wanting more...

Ingredients

24 Nottingham designer makers

2 curators

4 product zones

A large helping of retail expertise

9 work experience young people

One good lick of paint

Plenty of elbow grease

1 Heaped tblsp of advice from CQHQ

1 large INTU space

1 dynamic City Council Economic Development team

457 emails

134 retweets

2 large security guards

325g of plain talking (per person)

1 large dose of encouragement

98 'Big Ben' bear hugs (to soften)

A pinch of Irish good luck

Unlimited talent

For the Icing on the cake

1 large outpouring of support from the Nottingham people

Hundreds and Thousands (of sales £££!)

   1. Empty the ingredients into a large space and mix well together until light and fluffy.

   2. Add the interesting product and the colourful craft, a little at a time, until fully combined before adding          more.

   3. Allow to settle while decorating the windows.

   4. Add the heat and watch it rise (to the occasion).

   5. Once ready, allow to cool completely before raising the shutters.

   6. Welcome in the adoring Nottingham people inside and let them have their fun.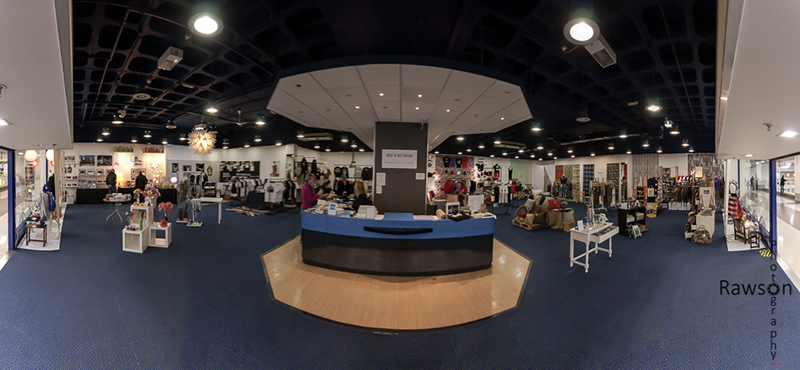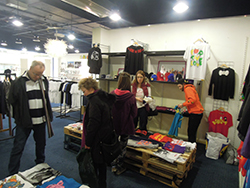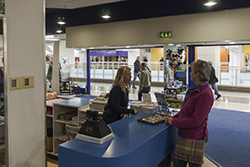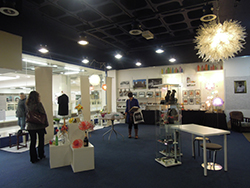 What do you do when given a set of keys to a vast empty shop space and you're told it is yours to open in 7 days?

Well you 'do' first and 'worry' later - that is what WE did!!!

With a marathon of ringing around and emails, the quest to fill the store was met with only enthusiasm and excitement. With a serious lick of paint, and built like the set up day one would have at an Earl's court trade show, the individual designer makers shared ladders, sellotape, tea mugs and business cards on those manic first few days behind the closed shutters and opaque window vinyls.

Hidden from the world, a sense of achievement and imminent greatness was growing...the stage was nearly ready for us to have our performance that was short in rehearsal but a long time coming for many.

DPC of Mansfield
turned up at 7am on our launch day to start the painstaking task of removing the vinyls on the huge shop windows - the only barrier now between us and our soon to be adoring local shoppers.
Using a mix of blades, scrapers, chemicals, elbow grease and sheer determination, over 5 hours (!) the big reveal was taking place, with just minutes to spare before we cut the ribbon.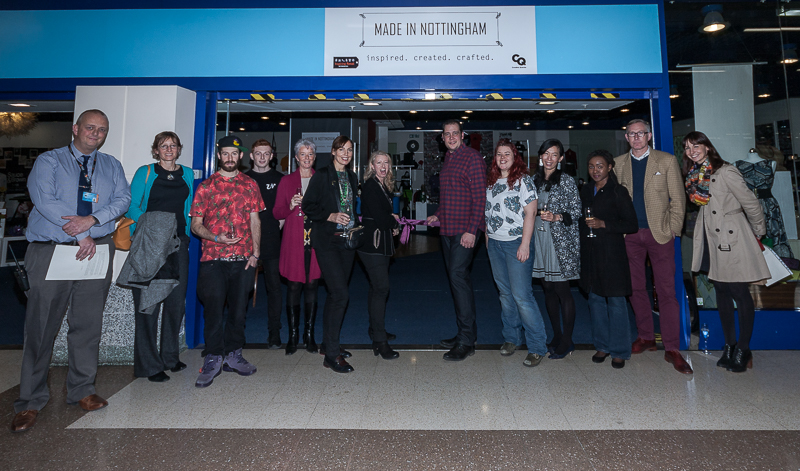 Pictured (left to right)

Ian Goodacre, Catherine Mayhew, Simeon Hartwig, Daniel Smith, Tracey Christie, Mo Brittain, Mary Corcoran, Ben Rawson, Sarah Turner, Yen, Rejoice, Andrew Frogson, Liz Cooper

We would like to thank the following for their support in the set up and realisation of the store -

INTU Broadmarsh for their generous donation of an empty space and canvas to celebrate our store concept and see it happen for real. But also to the amazing team that we had at the centre - Adam Tamsett, Lynda, Nicola, Kate and Katie, Kevin, Chris, Ben, Jamie, Rich, and so many more. Big thanks is not enough.

The City Council Economic development team for their advice and invaluable, never-ending and down-to-earth support.

The Creative Quarter for their infinite belief in us and in promoting the venture on their website, telling everyone about us.

The vast empty abyss of a space when the keys dropped in our hands

(Click on photos to see larger)